Georgica Fortress in East Hampton, NY
Often described by fascinated onlookers as an insulated fortress, this home and its essential Georgica characteristics with high hedges that are manicured weekly – is a world in and of itself. One half expects to see Teddy Roosevelt coming out to greet you. Listing agent, Erica Grossman of Douglas Elliman Real Estate, who knows the Hamptons exceedingly well, agrees.
By: E.J. Webber | June 4, 2015
Located south of Montauk Highway on Georgica Road, East Hampton, the home offers privacy galore and feels like a retreat. The owner shared his description of the property, calling it a gothic retreat and referred to it as "Fort Georgica" in further describing the layout. Everything in the Hamptons as far as home design is concerned is viewed in broad terms and planned on wide blueprints and this home is no exception. "It feels like a base," he said, "A home base and not just an investment. It has real character and style and my dream team of contractors, Nick and Gary Sanders, landscaper Steven Dellapolla, and New York born interior designer Sasha Bikoff, with whom I grew up in New York, helped to make it so."
From the beginning, the exterior architecture was designed to replicate the charm that symbolizes the style of Georgica and East Hampton south homes. Georgica of course, refers to Georgica Pond - that 290-acre coastal lagoon on the west border of East Hampton Village - an area that has seen many famous individuals and celebrities reside and holiday there. In fact, Russell Simmons, the famed business magnate, once leased "Fort Georgica."
Set on one acre, the outside landscape is lush with gardens, a heated gunite pool, and a beautiful guesthouse complement an open-air pavilion – a four-column structure with roof and shade – and plays a huge role in the key outdoor features that are so unique. The gourmet chef's kitchen, open area living room with a fireplace and spacious dining area, and fully equiped game room indoors provide another perfect backdrop for entertaining.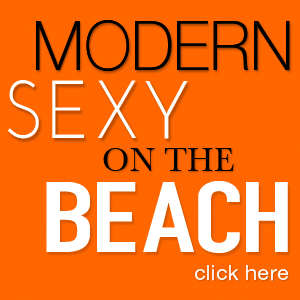 Outside there are also two fireplaces and a grill area attached to the pavilion. Being outside grilling and enjoying summer outdoor activities, happen to be the owner's most favorite things to do. One of the more enchanting stories about the neighborhood, he explained, is that there is a real affection and bond between the neighbors. They always plan lots of parties and gathering during the busy summer season.
The traditional 2-story cedar shingle structure was made for enjoying the finer things; the exterior belies its interior sleek contemporariness however. It seems a lot more classic in exterior despite the fact that it was only built in 2000; but by the time the current owner acquired the property, it had been quite neglected. "A lot of ripping and rebuilding took place. I always feel that a home is the most personal asset one can own, and I truly wanted to turn this duckling into a swan." And change it he has. This 5700 square foot home boasts 5 luxurious bedrooms, 4 1/2 baths, a full basement and vaulted ceilings. There is a lightness to the interiors and plenty of space to have privacy. Wood flooring is throughout the house.
The light and airy, yet substantial home, is a perfect retreat for the hot summers to come. Near the ocean, five minutes from East Hampton Airport, and the convenience of heliports in Manhattan only 40 minutes away, gives this home a special spot on the map.
The opportunity to own a home in Georgica does not come around too often. This is a chance to own something special.
Price: $5,275,000
To schedule a private showing:
Erica Grossman
O: 631.204.2723
M: 917.710.2512